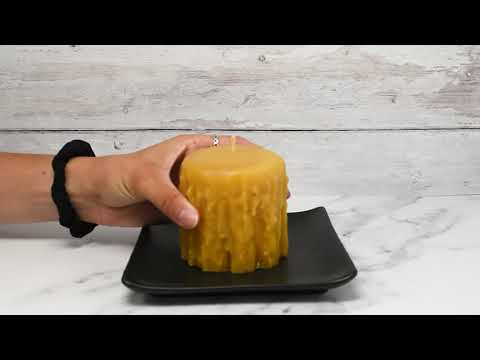 Specialty Drip Pillars
I simply love Honey Candles' drip pillars. I have them all over my home. I like to give them as gifts, too. They last an extremely long time. Burn well. And they fill my home with the smell of beeswax, even when they aren't burning. I recommend these candles.
Pillar Beeswax Candles
I received my candles in a most timely, efficient manner. They are excellent in quality.
I especially like using the large Pillar Candles when cooking in the kitchen.
Perfect
I love the candles I purchased. The quality to outstanding and they are beautiful.
Honey Candles
I am more than pleased with all my orders. Quality is superb. I get many compliments on my candles when seen or when I give as gifts. Love rhem💗
Above and beyond!
I was so excited to receive my rustic candle from Honey Candles! It arrived on time and did not disappoint. The candle was perfect and the personal touches such as complimentary tea light candles and match sticks that were included with the delivery were a great surprise. Their candles are high quality and absolutely stunning. I would definitely order from them again!
How do I care for my beeswax pillar candle?
Beeswax pillar candles need to be burned in long enough sessions to ensure the wax pool melts out to near the edge of the candle. This ensures that the candle does not tunnel a hole down the middle. A thin mantle can be left or it can be gently folded or 'hugged' in towards the wick to create a level surface.
What is the diameter of your pillar candles?
Most of our beeswax pillar candles are 3" in diameter (the heritage hand-dripped pillars are about ¼" wider. The new small pillar is just under 2" diameter.
How do I light my pillar candle?
When you light your candle, light the base of the wick not the tip. Let burn for at least 3 hours at a time.
How do I extinguish my pillar candle?
Instead of blowing out the candle, dunk the wick into the pool and straighten. This ensures an easier relight and prevents the wick from smoking.
Why is the flame on my pillar so large?
If the flame is too large, it means the wick needs a trim. Extinguish the candle by dunking the wick into the wax pool, trim the wick, straighten and relight. If a 'carbon cap' globule forms on the tip, trim the wick.
What is the diameter of your pillar candles?
Most of our beeswax pillar candles are 3" in diameter (the heritage hand-dripped pillars are about ¼" wider. The new small pillar is just under 2" diameter.
My beeswax pillar burned a tunnel down the middle when I burned it. What happened?
Beeswax pillars need to be burned at least 3 hours to form a pool of melted wax the width of the candle. Then the sides should be 'hugged' in to create a level burning surface to ensure the best flame for the whole life of the candle. For some excellent information on proper burning of pure beeswax Honey Candles® pillars and other varieties check out our Candle Care page or search our blogs.
Are your colored pillar candles solid or just coated?
Our coloured beeswax pillars are poured from carefully tinted beeswax. They are the same colour the whole way through.
What is the best holder for my pillar candle?
The best candle holder for your beeswax pillar candle is a flat pillar plate or sturdy pillar pedestal. We recommend that you do not burn your beeswax pillar in a hurricane lamp or similar enclosed candleholders. Tight fitting hurricane lanterns may hold in too much heat causing the melt pool to become too large and potentially spill over. If you really want to use a contained lantern, ensure it is substantially larger than the candle diameter and keep the wick trimmed short to contain the wax pool.
They are made only from 100% pure beeswax – the only naturally occurring candle wax!  No chemical processing or additives required! 

They are made only from the finest 100% pure Canadian beeswax.  No mixing, or cutting with other waxes.

Every candle is handmade and hand packaged in Canada.

Our paper and packaging are either recycled or recyclable (usually both) - and all sourced locally!

Honey Candles have no expiry date, they won't go rancid or melt on a summer day.

They burn beautifully with a bright, warm amber glow.

Honey Candles smell fantastic!  An all-natural gentle honey aroma

Beeswax candles naturally burn cleaner, brighter, and hotter than other wax choices.

They are made from beeswax which doesn't require dedicated land use.

Honey Candles® offers one of the widest variety of beeswax candles of any company in North America and we are always working on the next new candle to join the lineup. 
If you change your mind about your order, or if the colour or size just doesn't work, please contact us within 7 days. We will ask you to repack items carefully and return them to us. We will refund you, less the cost of shipping, for product returned in a saleable condition.
If you notice that product was damaged in shipping or if we made an error with your order please contact us within 7 days. We will work with you to make it right, at our cost.
If you feel unsatisfied with the performance of your candle, contact us right away. Beeswax candles have some unique traits and we have some great tips and tricks to help achieve the best burning experience. We'll request some information, share our expertise with you and hopefully set things right. If you're still totally unhappy with your order we'll refund the purchase price, less the cost of shipping.
Retail Shipping Rates (Canada and contiguous USA)
Free Shipping on orders over $125
 $12 Flat Rate Shipping on orders under $125
Estimated Shipping Time 
Shipped next day
Delivered within 7-10 business days for North American locations  
International customers please contact us for shipping rates: